Useful Tips to Maintain Your Power Chair or Mobility Scooter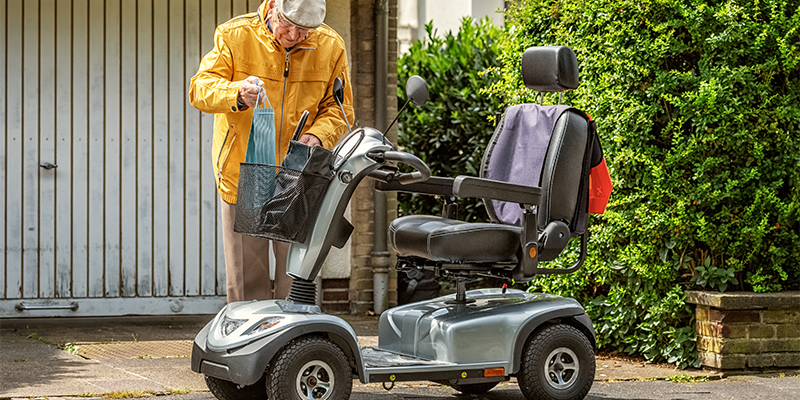 For those living with limited mobility, a mobility device is critical to more than simply being able to get around. Your mobility device represents your independence and freedom to do what you want, when you want. In order to utilize your mobility equipment the way you want, you need to make sure it's safe and ready to use when you need it. Properly maintaining your mobility equipment is essential to maintaining independence and mobility. With these tips from CarePro Home Medical, you can keep your equipment running so you're ready to go at a moment's notice.
Keep Your Batteries Charged
Whether you use a power chair or a mobility scooter, your device's battery is probably the most critical component to maintaining your independence. Keeping your battery charged means it's always ready to go when you are. To ensure your battery lasts as long as possible, keep it out of the cold. Cold weather reduces your battery's efficiency. Be sure to check your battery's charge before every use to make sure it is adequate for your needs.
Store Your Device Properly
When you're not using your mobility scooter or power chair, make sure you have it properly stored to prevent it from getting damaged. The simplest way to make sure your device is safe from the elements is to keep it stored inside and fitted with a cover. The cover will keep your device from accumulating dust and stop other potentially corrosive elements. Corrosion is the enemy to any mobility device. Once corrosion starts, it can quickly lead to deterioration and even rusting. By simply covering your device, you can extend its life.
Complete Regular Cleaning
No matter what, when it comes to owning a power wheelchair or scooter, you'll want to be sure to keep your equipment clean and maintained. Some basic ways to keep your equipment clean includes:
Washing off tires after the scooter was outdoors or in rough terrain
Don't let your equipment sit outdoors or in a damp area without use
Be sure to deep clean your equipment weekly or monthly
Keeping your scooter clean and maintained will not only help it look better, but it will help your equipment last a lot longer. Be sure when you're cleaning to check that all parts are intact and not broken and that your battery is operating properly. If you notice something is broken or a battery needs replaced, be sure to give us a call and get it fixed before a bigger issue arises.
Just remember, when it comes to getting you to where you need to go safely, CarePro Home Medical is ready to help. Please contact us to speak about your maintenance needs to ensure your device is ready when you need it.