Scooters: Your Solution to Stay Mobile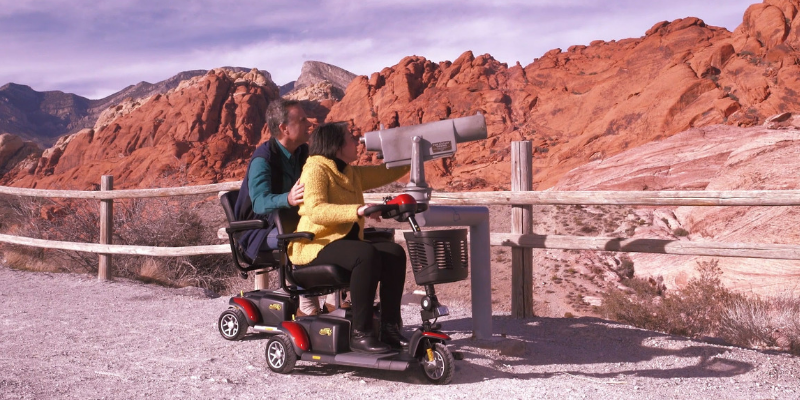 The impact of mobility limitations on health outcomes can be substantial, but there is a solution: mobility scooters! No matter what your diagnosis or limitations are, you don't have to say goodbye to independence and autonomy. Each scooter is built with your best interest in mind. Whether you're a traveler or an in-home daily user, there is a scooter for you! Here are some of the benefits of mobility scooters that allow you to stay mobile and safe.
Heavy Duty
A heavy duty scooter like the Buzzaround XLS is up for a challenge on any terrain! If you're the type of person who doesn't want to give up their active outdoor lifestyle but also likes to use this in the comfort of your own home, this might be the scooter for you. These scooters have an ultra bright LED headlight that comes standard, allowing you to always have a safe ride, especially in the evening hours. The Buzzaround XLS scooter also has a NEW comfort spring suspension for a smooth ride to keep you comfortable. Does it get any better?
Transportation
The Buzzaround XL allows you to get from point A to point B, worry-free. This scooter disassembles in seconds with just 4 easy steps making transportation a breeze! And when you get to your destination, it even has a front carry basket to hold your personal belongings or shopping items. You can use this scooter with ease wherever you go.
Indoor + Outdoor
With an indoor + outdoor scooter, you shouldn't have to worry much about the type of terrain it will be on. But you will want one powerful enough to get over bumps and gravel, yet not too large so you are able to get through tight spaces around your home. A great option to have the best of both worlds would be the Buzzaround XLS, mainly because it has the new comfort spring suspension for a smooth, comfortable ride inside and outside. This scooter is great for handling rough terrain or just a stroll around town. Not only does it have exceptional suspension for tackling the outdoor terrain, but also has a great turning radius for when you are in tighter spaces making it a great fit for an indoor and outdoor scooter.
The 3 wheeled scooters, like this one, are more narrow and allow you space to weave through aisles and around corners in your home, office or shopping center. The Buzzaround XLS is a full-sized scooter but is light and very compatible to use anywhere. It has a very strong battery life, so you can get to wherever you want in the day. It also has a basket in the front to allow you to store your things and keep your independence when traveling with others.

When you or your loved one needs help getting around, CarePro Health Services can help. Contact us today or take a look at our catalog to get the equipment you deserve!