Oh, The Places You'll Go - With A Scooter!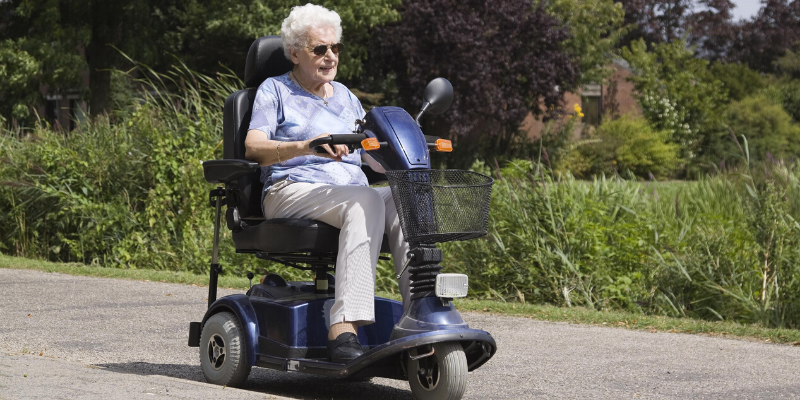 To most people with limited mobility, getting a scooter is a no-brainer. But often times, before people get a scooter, they ask themselves, why are mobility scooters so beneficial? How can having one be helpful in my life? Is a scooter right for me? We're here to answer those questions!
Benefits of a Scooter:
Eliminate fatigue: As someone gets older, it's often more difficult to keep up with the busy schedule of everyday life. With a scooter, you can stay mobile and continue your on-the-go lifestyle without worrying about getting too tired to continue. Say goodbye to trying to keep up with your grandkids or friends - with a scooter you can ride alongside your family without any issues.

Reduce the risk of injury: Trips and falls are very common among older people, and these can often lead to serious injuries. Using a scooter when you're out and about will help reduce the risk of tripping.

Increase your independence: If you find yourself relying on others to help you get around, that's no longer necessary with a mobility scooter. You're able to get up and get out the door without the assistance of others, allowing you to carry on throughout your day with ease and convenience.
Times When Scooters Are Especially Helpful
At the airport: Getting around the airport is stressful enough, but not having great stability while walking can make it more of a hassle. With a mobility scooter, getting around the airport is a breeze.

While sightseeing: Exploring is great, especially when you don't have to worry about fatigue or walking around tough terrain. Using a scooter while sightseeing makes the experience even more enjoyable.

While shopping: Getting around the mall, especially when it's busy, can make the shopping experience stressful. Having a scooter to navigate around the stores can help.
Great Scooter Recommendations
Buzzaround LX 4 Wheel Scooter: This is the perfect 4-wheel scooter, offering lots of foot room and space. Not only will you enjoy a comfortable riding experience, but the great turning radius offers the maneuverability you've been looking for.

Buzzaround LX 3 Wheel Scooter: This scooter is the perfect option for travel! It is smaller, easily transportable and can fit through tighter spaces!
Now that you've read all about the many benefits and know of two great scooters we offer, it's time to think about how a mobility scooter can be helpful in your life. If you have any questions about scooters or want to learn more about what we offer, feel free to contact us or visit our website - we'd be happy to help you out.