How to Pick the Perfect Power Lift Chair
Posted On: March 26, 2022 by CarePro Health Services in: Lift Chair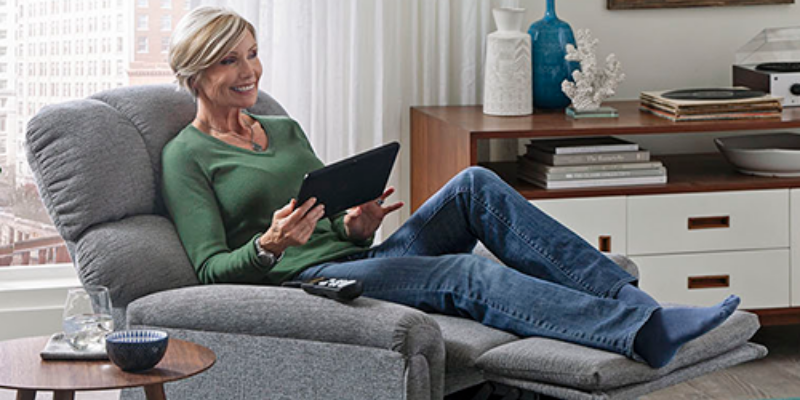 CarePro prides ourselves on helping anyone find a solution to aid in better mobility while remaining comfortable and stylish. Power lift chairs fall into this category. If you are on the hunt for a power lift chair, here are our tips on how to pick the perfect one.
Define what you are looking for
What type of lift chair are you looking for or what qualities are a must? Is it the style/looks of the chair you care about most or the comfort or size? Figure out what is most important and that will help you make your next step.
Understand the different types of chairs
Did you know that there are different types of lift chairs with nothing to do with size, style and comfort? This includes two-position, three-position and infinite. An infinite lift chair can help people with poor circulation, as it can reach the Trendelenburg position. This unique position allows for the feet to be elevated over the heart and head for better circulation. Two-position chairs have one motor which controls the back of the chair and the leg rest at the same time. Three-position chairs also have one motor but recline to about 45 degrees.
Know your options
There are plenty of lift chairs that fit any need – size, comfort, style and so on are all taken care of by our selection of chairs!
Comfort: The MaxiComforter, for example, offers extreme comfort with its plush backrest and seat. The Cloud is another super comfy lift chair option with an exclusive bucket seat with "perfect posture" guidance.
Style: The Capri offers a colonial button-back design with more rounded arms while the EZ Sleeper is a luxury power lift recliner featuring a modern look with a tailored back and stylish track arm design.
There are also different upholstery types to choose from regarding style. Get different fabric colors, leather or faux leather!
Size: The Comforter can come in a wide size just like the MaxiComforter! There are also space-saving lift chairs if you are looking for something the opposite of wide.
Other Features: Some lift chairs can have heated seats, cupholders, pockets and so on. See what features different lift chairs you are looking at have so it can be best suited to your needs.
Reach out to CarePro
CarePro offers numerous lift chairs – check out our online catalog or stop in our store to see our wide variety and selection. There is a perfect fit for you!