Alternatives to Taking Away the Keys
Here's How You Can Help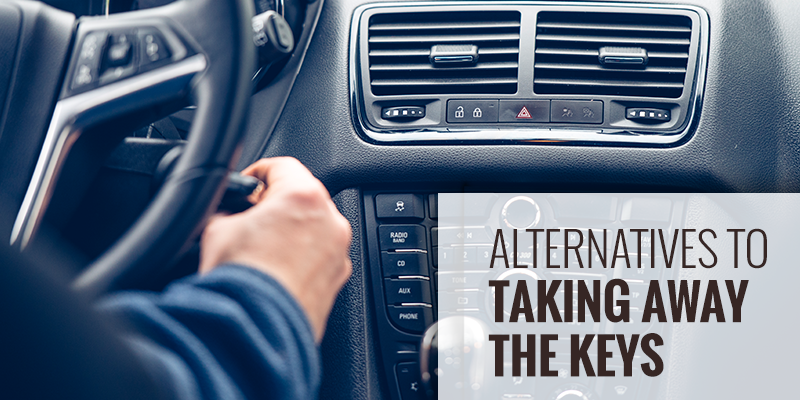 It's never easy to watch our parents grow older, especially as we find ourselves having conversations with them about their independence. Driving, in particular, can be a sticky subject. On one hand, you don't want them to be unsafe. On the other, you know what losing that much freedom will mean to them.
Fortunately, there may be some alternatives to giving up the keys completely, including:
Sign up for a driver's safety course with them to help them refresh their skills. By taking it together, you can keep them from feeling singled out and isolated.
Many occupational therapists specialize in driving rehabilitation and can make recommendations for adaptive equipment that will allow your loved one to continue driving even when their physical health declines. Offer to explore that route with them before they give up driving.
The time of day can affect how well they drive. If they're having problems at night, help them work out an alternative schedule. Can they take that gym class during the day instead of the evening? Can they meet their friends for morning coffee or lunch instead of dinner?
Find out all the alternative transportation options available in your community, including buses, subways, taxis, etc. The Heritage Agency (our local area agency on aging) offers transportation services, which could come in handy. While they may not be ready to stop driving quite yet if they're having a bad day these services can prevent an accident from happening.
Make sure their car is up-to-date on maintenance. If they're already slow to respond in a traffic situation, it won't help if their tires are bald or their brake pads are low.
If these solutions don't work and it really is time for mom and dad to give up the keys, remember that it's you and them against the problem, not you against them. By making their unsafe driving a problem that you're tackling together, you can take some of the adversity out of the situation.
At CarePro, we specialize in the sort of issues that impact older adults. We also carry a number of items in our online catalog that can make it easier to age in place!