Safe Lifting Techniques for Assisting a Loved One from a Chair
Posted On: June 8, 2023 by CarePro Health Services in: Lift Chair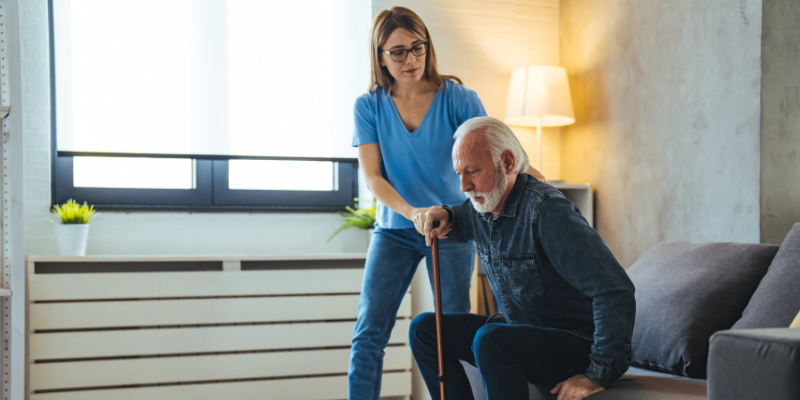 If you're caring for a loved one, it's crucial to prioritize safety when assisting them in getting up from a chair. Adopting appropriate lifting techniques can effectively ensure the safety of both you and your loved one. In this blog post, we'll explore several lifting techniques that you can employ to help your loved one stand up from a chair without any risk.
Helpful Tips and Lifting Techniques
Always maintain a neutral spine when lifting someone
Lift with your legs only, never your back
Never twist your torso when lifting
Keep your feet shoulder length apart for maximum balance and stability
Take your time, never try to rush
When it comes time to lift someone up from a chair, begin by standing in front of the chair following the three steps below:
Confirm that your loved one's feet are on the ground, with a slight distance between them to promote stability.
Encircle your loved one's torso with your arms, and if they prefer, they may rest their hands on your shoulders for added comfort.
Keep your loved one close to your body, and as you slightly squat down, lift with your legs while pushing through your heels. It's essential to maintain a straight torso while lifting to avoid any potential back injuries. While these lifting techniques can make lifting someone from a chair easier, a way to increase safety even more is to utilize a lift chair. A lift chair is a mechanically powered recliner chair that can move positions easily with the push of a button. A lift chair can assist the user with sitting down and standing up safely. The stability and durability of lift chairs provide both the user and caregiver with greater peace of mind.
At CarePro Home Medical and Kelly's Home Medical, we provide safe, comfortable, and reliable lift chairs that can be helpful when lifting someone up from a lift chair. We offer lift chairs in several colors, styles, and features, so visit our website to browse our available options!
When it comes to lifting your loved ones, it is important to follow these helpful tips and techniques for maximum safety for you and your loved ones. If you are interested in learning more about how a lift chair can make caregiving easier, please reach out to our team, we are happy to help you!