Respironics Simplygo Mini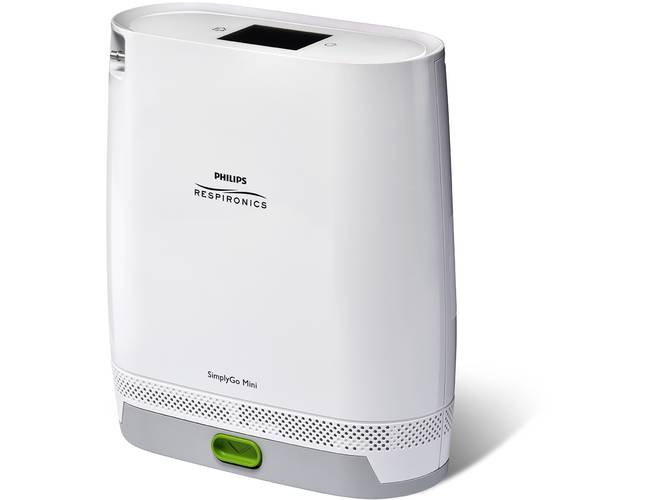 Call for Availability
Prescription Required
The next generation in portable oxygen concentrators is here! The Philips SimplyGo Mini is the next step in innovation for users who want the highest level of mobile oxygen therapy. Respironics has continued their tradition of leading the industry in manufacturing oxygen products designed for portability, reliability, and ease-of-use.

With up to 4.5 hours with the standard battery and 9 hours with the extended battery, the SimplyGo Mini is able to provide the patient with unrivaled freedom. Weighing only 5 pounds with the standard battery or 6 pounds with the extended battery, the SimplyGo Mini allows the user to chose the power and weight option that works best for their lifestyles and needs.

This machine makes it even more possible now, to stay active and on the go while still getting the oxygen therapy you need. It has a maximum oxygen setting of 1,000 ml/minute on the setting of 5. The lowest it provides is 220 ml/min on the setting of 1. The oxygen purity runs between 87% and 96%, with an average of around 93%.

The SimplyGo Mini has undergone rigorous testing at its factory in Kennesaw, Georgia. These stringent testing procedures have ensured that the SimplyGo Mini can withstand extreme vibrations, temperatures, and impacts. Its lightweight and compact design make it very durable and ideal for active users. It is able to provide 5 different settings using a pulse dose delivery system that provides the user a burst of oxygen whenever a breath is taken.

The Respironics SimplyGo Mini Starter Package includes a new SimplyGo Mini portable oxygen concentrator, battery, AC and DC adapters, a custom carrying case, shoulder strap, accessory bag, cannula and manual. Every new SimplyGo Mini comes standard with a 3-year manufacturer's warranty on the concentrator and a 1-year warranty on the sieve beds. Extended warranty options are available to help ensure the life and longevity of the device.
| key | value |
| --- | --- |
| Dimensions | 8.3 inches Wide x 3.6 inches Deep x 9.4 inches |
Product Features Easy-to-use readable LDC user screen Five pulse dose settings Lightweight and easy to carry Rugged,