ResMed AirMini™ Travel CPAP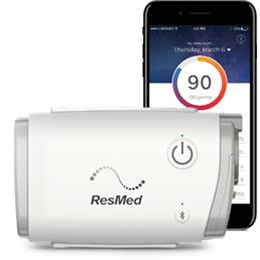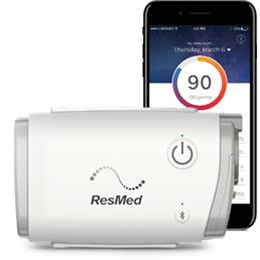 Being the world's smallest CPAP Machine at just 10.6 oz and 5.4 x 3.3 x 2.0 inches, the AirMini™ comes with the same therapy modes as the standard AirSense™ 10 Auto device and offers many of the same popular features including AutoRamp™, View more
Being the world's smallest CPAP Machine at just 10.6 oz and 5.4 x 3.3 x 2.0 inches, the AirMini™ comes with the same therapy modes as the standard AirSense™ 10 Auto device and offers many of the same popular features including AutoRamp™, Expiratory Pressure Relief (EPR), BlueTooth connectivity and SmartStart™.
With the AirMini™ app, getting your sleep data is easy. Receive your sleep score each morning and 30-day history, so tracking progress is not interrupted by travel schedules and can be done anywhere.
Compatible Mask: The AirMini™ will ONLY work with one of these three masks: AirFit™ P10 Nasal Pillow Mask, N20 Nasal Mask and the F20 Full Face Masks.
The AirMini™ Auto CPAP machine will include the following items:
AirMini Machine
Power Supply Cord
Drawstring Bag
1 Filter
2 year warranty for AirMini™
User Guide
Mask Kit option is required