Reliant 600 Electronic Patient Lift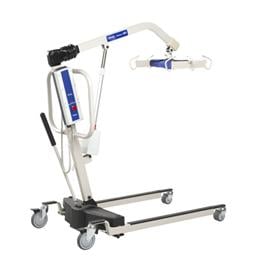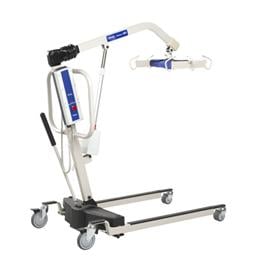 The Reliant 600 lift provides a large lifting range that allows for patient transfers to high surfaces, low-friction casters that significantly improve maneuverability and contribute to caregiver safety, and manual lowering for instant response to power loss. View more
The Reliant 600 lift provides a large lifting range that allows for patient transfers to high surfaces, low-friction casters that significantly improve maneuverability and contribute to caregiver safety, and manual lowering for instant response to power loss. The lift is designed to meet the needs of bariatric patients up to 600 lbs., and is safety tested for highest quality standards. The boom is controlled through the hand pendant. The manual low base provides access to beds and furnishings that are close to the floor with a 4.5" base height. It is an essential device for safe patient-handling in long-term care facilities.
Features:
Base legs adjust easily and lock securely into open position with the padded shifter handle
Extra-wide coated swivel bar with 360° rotation and six-point hook-up
High lift range allows transfer to high surfaces
Bariatric weight capacity up to 600 lbs.
Unique sling fabric designed to provide maximum comfort and strength
Total pinch-point protection covers all moving parts for added safety
3 Year Limited Warranty on lift; 1 Year Warranty on specified electronic components
For additional product information, including a few larger pictures, deeper descriptions of features and optional lift accessories, and detailed technical specifications for each model, click on the Product Detail PDF located below, under the Additional Resources tab. (Note: This file contains information on all Invacare lifts and slings. While Fitzsimmons carries many of the other items listed, the details pertaining to the Reliant 600 span pages 7 and 8).
| key | value |
| --- | --- |
| Height (maximum at sling hook-up) | 70" |
| Height (minimum at sling hook-up) | 29.5" |
| Base height (clearance) | 6.8" |
| Base width (open) | 41" |
| Base width (closed) | 26.5" |
| Base length | 48" |
| Casters diameter | 5" |
| Weight Capacity | 600 |