Invacare Platinum Mobile Oxygen Concentrator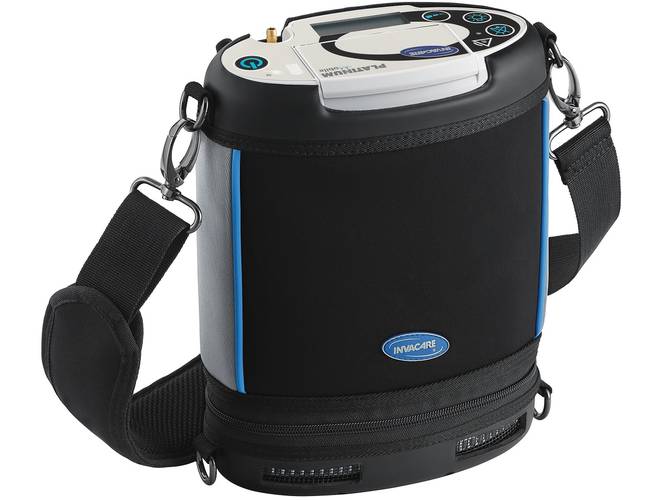 Invacare Platinum Mobile Oxygen Concentrator View more
Call for Availability
Prescription Required
The Invacare Platinum is a portable oxygen concentrator for active patients. Weighing less than 5 pounds, the Invacare Platinum Mobile Oxygen Concentrator features robust performance and a durable, go-anywhere design. The Invacare Platinum also sources an integrated lithium-ion battery pack, which can power up to 5 hours of oxygen therapy on a single charge.
Invacare Platinum Mobile Oxygen Concentrator Features:
Compact design weighs only 4.98 lbs for easy portability
Pulse mode oxygen delivery with adjustable pulse settings (1-5)
Rechargeable battery pack (single battery included with purchase), offers 5 hours of therapy duration (pulse setting 1)
DC adapter utilizes 12V outlets for mobile charging
FAA-approved for air travel and in-flight use
Convertible carrying case can transform into a messenger bag, backpack or handbag
Simple 4-button user interface
USB included with an easy-to-use patient app to monitor therapy
Rugged design is both temperature and water resistant
Quiet 40 dB sound (setting 2)
Compact Portable Oxygen Source
A small and unobtrusive design, the Invacare Platinum weighs only 4.98 lbs and delivers pulse-dose oxygen (O2 purity 87–95.6%) in four flow settings (1–4). The Platinum Mobile is a potent O2 concentrator capable of meeting the needs of many COPD patients. And Invacare built the Platinum Mobile to perform in a variety of conditions, with a robust design that is both temperature and water resistant. Wherever you go, the Platinum Mobile will be there at your side with reliable performance.
Integrated Battery Solution
The Invacare Platinum's go-anywhere credo is powered by its lithium-ion battery pack, which can deliver up to 5 hours of O2 therapy on a single charge (setting 1). The battery is fully integrated into the Platinum machine, making for quick and easy battery changes. In fact, the Invacare Platinum Mobile sources dual battery housing ports, so patients can double up their cordless power duration to 10 hours. The dual battery design also makes it possible to hot-swap batteries while the machine is running (provided patients have a supplemental Invacare Platinum Battery on hand, with Oxygen Direct also selling the Invacare Platinum Oxygen Concentrator with Dual Batteries.) The battery pack recharges when the Platinum Mobile is plugged into its AC power supply. The Invacare Platinum can also run when its DC adaptor (included with purchase) is connected to a 12V plug, turning your car, truck or RV into a mobile powerhouse.
Portable, Easy-to-Use Design
Designed to accompany O2 patients wherever they may roam, the Invacare Platinum features numerous travel-friendly accessories. Foremost amongst these is the Invacare Platinum's carry case, which can transform into a variety of bag types – from messenger to handbag to backpack – depending on the patient's need and preference. The easy-access battery has already been highlighted, but the same descriptor applies to the Platinum's HEPA filter – conveniently placed for easy maintenance.
The practical simplicity of design extends to the user interface, as Invacare Platinum owners control their therapy through a straightforward 4-button panel. But the simplified design philosophy doesn't mean the Invacare Platinum lacks in advanced tech, as patients can monitor and evaluate their therapy via mobile app. The Platinum Mobile oxygen concentrator brings cutting-edge oxygen therapy in an effective, approachable package.
Invacare Platinum (Single Battery) Includes:
Platinum Mobile Oxygen Concentrator
Single Platinum Mobile Battery
AC power supply
DC charger
Carrying case