Invacare Get-U-Up Hydraulic Stand-Up Lift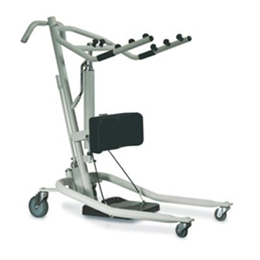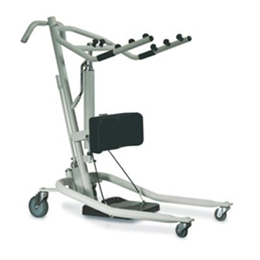 Comfortable and secure, the Invacare® Get-U-Up™ Stand-Up Lift is the answer to your patient transfer needs. Its ergonomic
styling and easy maneuverability make the Get-U-Up Lift an ideal product for everyday patient handling. View more
Comfortable and secure, the Invacare® Get-U-Up™ Stand-Up Lift is the answer to your patient transfer needs. Its ergonomic
styling and easy maneuverability make the Get-U-Up Lift an ideal product for everyday patient handling. The Get-U-Up Lift helps
ensure caregiver security and patient peace of mind. Ideal for use with partial weight-bearing patients as well as those needing
rehabilitation support, the Invacare Get-U-Up stand-up lift offers safety, comfort and stability.
Features & Benefits:
- Innovative adjustment features adapt to a wide variety of body sizes and shapes -- comfort at any height, width and weight range up to 350 pounds
- Low friction casters significantly improve rollability and contribute to caregiver safety
- Multi-function slings allow for quick toileting, stand assist or full-support seated transfer
- Adjustable leg support features a soft pad with lateral contour that secures legs in multiple positions for comfort at any height
- Retractable, non-slip footplate provides stable base for transfer
- Under-bed clearance of 4.5" allows accessibility to most homecare-style beds
- Ergonomic features make it ideal for toileting transfers, as well as dependent and rehabilitation purposes
- Fast, simple sling attachment that protects against accidental disengagement; wide push handle, good access for clothing removal; and comfortable slings with extended back support that prevents pressure in the underarm area
- Pump handle can rotate from side to side for convenience of caregiver
- Limited warranty includes three years on the lift, one year on the hydraulic pump
| key | value |
| --- | --- |
| Weight Capacity | 350 lbs. |
| Clearance | Underbed clearance of 4.5" |
| Base length | 40.5" |
| Base width | Closed: 23"; Opened: 37" |
| Caster Options | Rear casters 5"; Front casters 3" |
| Overall height | Max at sling hookup: 65"; Minimum: 36" |
| Overall Weight | 100 lbs. |